Practically everyone has heard of a tortilla, but not everyone has heard of an arepa. Not having traveled to South America, I wasn't familiar with arepas until I ate at Teote, years ago in Portland.
It all starts with corn. Corn is important to Latin American cultures. So much so, that there are prayers and celebrations in honor of this life giving plant, which is maize in Spanish.
The versatile corn plant, crafted into arepas
And since there are a couple dozen Latin American countries, spread out over two continents, it only makes sense that corn is crafted into many different dishes. Tacos, tamales, tortillas, pupusas, posole, and arepas come to mind. When I've traveled in Mexico, I have seen women smacking maize back and forth in their hands, until they form a flat tortilla. When I was in El Salvador, I took a cooking class to learn how to make pupusas. Pupusas are slightly more complicated, as they contain not only maíze, but also beans (frijoles) and cheese (queso) and possibly vegetables.
Come and sample arepas (and more) at Teote
And I am positive when I make it to South America (hopefully winter of 2021), I will see arepas sold as street food and in the markets. And with luck, take a class on making arepas. In the meantime, I will keep eating at Teote. And I will keep bringing guests on the Bustling Buckman Food Tour to the Teote House Café, which is located in a refurbished vintage home near Ladd's Addition. And I will note, that since Teote opened up there in 2013, they have expanded with the Mezcaleria in the Alberta Arts district and the Outpost in Pine Street Market downtown. So you have lots of options!
Arepas are the Columbian and Venezuelan corn dish of choice and have been, long before the Europeans colonized the New World. In fact, it is believed that they are not much different now than they were 3,000 years ago. Talk about endurance.
They are thicker than a tortilla, but definitely round and flat. Another key difference is that the arepa flour is NOT alkali treated, like so many other maize products. The soaked kernels make for a moist batter. Although the magic comes when they hit the grill. Lightly fried to perfection, the outside is crispy and the inside is still moist.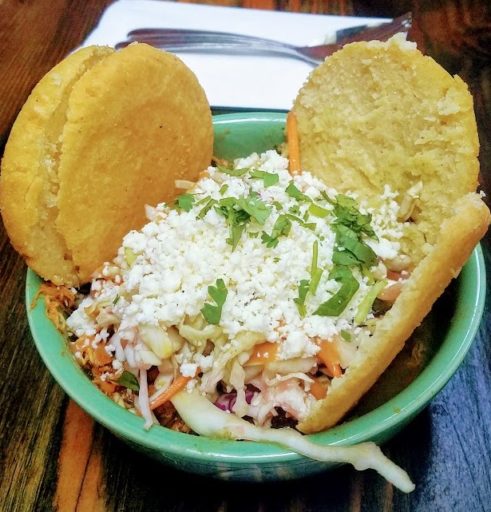 Sounds so yummy! How are they served?
Grounding and nourishing, arepas can be eaten any time of day. Traditionally, they are either an accompaniment to a meal or a snack themselves. They are perfect for sopping up spicy and/or wetter foods, which is exactly how they are served at Teote. Or picture them stuffed with beans or cheese, or grilled meats, fish or chicken. The adjective versatile comes to mind.
Teote is Venezuelan cuisine, but not in the strictest sense. They utilize South American grilling techniques (YUM!) and combine that with Northwest ingredients. This translates into organic and local meats that are braised with the spices and sauces best paired with the cut of meat. Examples include chicken with a distinctly smoky sauce or brisket with a salsa verde. And vegetarians, we've got you covered with black beans accompanied by a plantain sauce. A generous sprinkle of local veggies gives the arepas that extra pop on what is essentially a divine ethnic comfort food.
I don't want to give too much away. But at the end of the Bustling Buckman Hood Food Tour, guests name Teote as their favorite stop about 75% of the time. The arepas are THAT good!
Teote House Cafe
1615 SE 12th Ave
Portland, OR 97214
Teote Mezcaleria
2700 NE Alberta St
Portland, OR 97211
Teote Outpost
Pine Street Market
126 SW 2nd Ave
Portland, OR 97204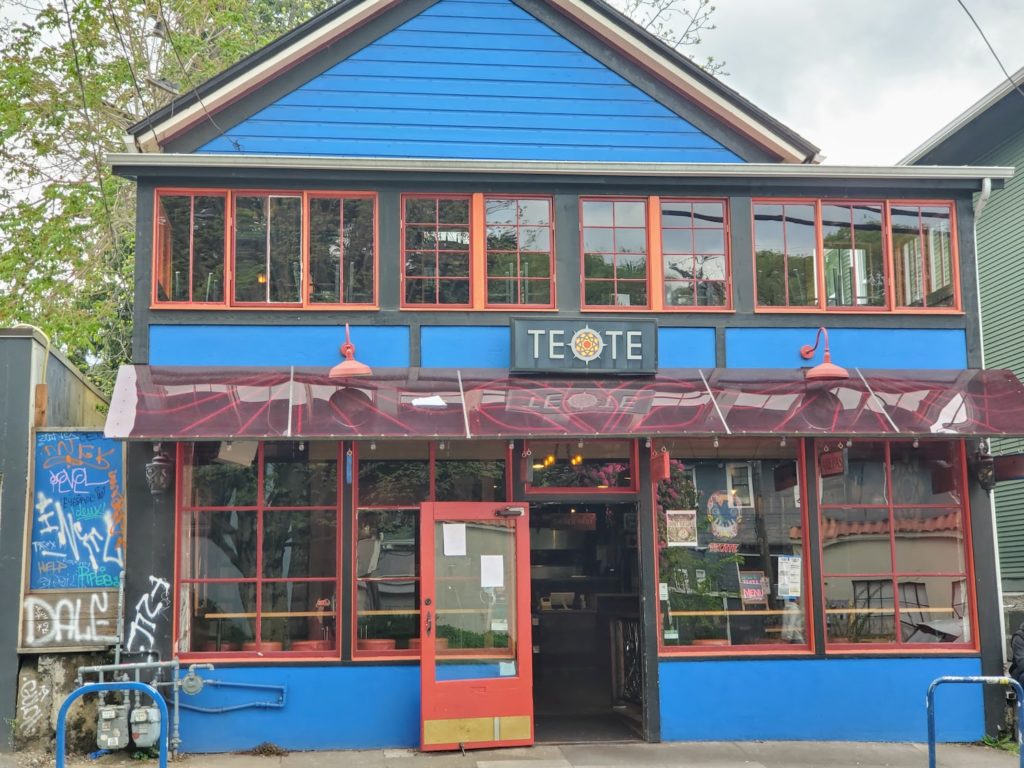 The Teote House Cafe – as featured on our Portland food tour