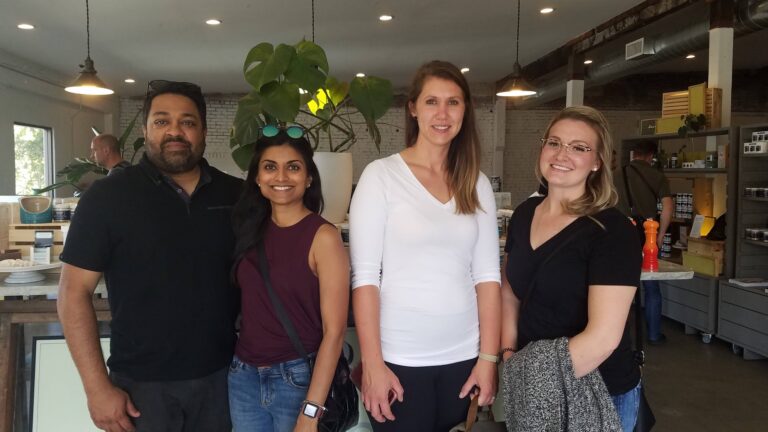 We enjoyed our tour of Kerns so much that we did a second tour at Buckman Hood. Sherri did a great job connecting with our family and customizing our experience. Not only did we enjoy a variety different food but Sherri taught us a lot about the history and culture of the area. Even after tour, Sherri made herself available to us as we navigated our way through Portland. This was the best way to get to know the city.
It was so wonderful of Sherri to customize our tour for a Friday evening! We were having a hard time coming up with a time that work for everyone in our family so Sherri customized a tour for us. Fabulous customer service!
Portland by Mouth Food Tours was our first food tour in more than 10 years and it reminded us how much fun these tours can be. Our Brunch on Mississippi tour was jam packed with flavors, bites, sips and stories, then sprinkled with the perfect amount of walking, city history, and laughing. You can tell Sherri is a real foodie, with an eye for detail and a passion for all of the things that make Portland quintessentially Portland. Sherri knows her stuff and it shows. Her keen insights and a willingness to share and answer questions was a major plus. We loved every single stop on our tour. We look forward to exploring more of Portland with some of Sherri's other neighborhood food tours.
I enjoyed this Portland culinary food tour with Sherri because she is knowledgeable, passionate and well connected. She appreciates area history and clearly articulates that in her tours. Sherri values connections with her guests and the people in her neighborhood. She is approachable, friendly and has great flow during her tours. She allows space for people to ask questions and socialize as well. This tour was all about local food and drink. We got some nice walking in as well as a diverse array of the local eateries. Several stops for delicious cuisine were on the menu, drinks and chocolate for desert. 🙂 No one walked away feeling unsatisfied!
If you are gluten free, this tour is definitely for you -- our host and guide Sherri, is gluten free too, and can arrange a GF tour that will delight you! If you love gluten, this tour is also for you. We enjoyed a wide array of dishes with a nice balance of savory and sweet, healthy and indulgent. Sherri knows Portland, food and lots of interesting PDX facts.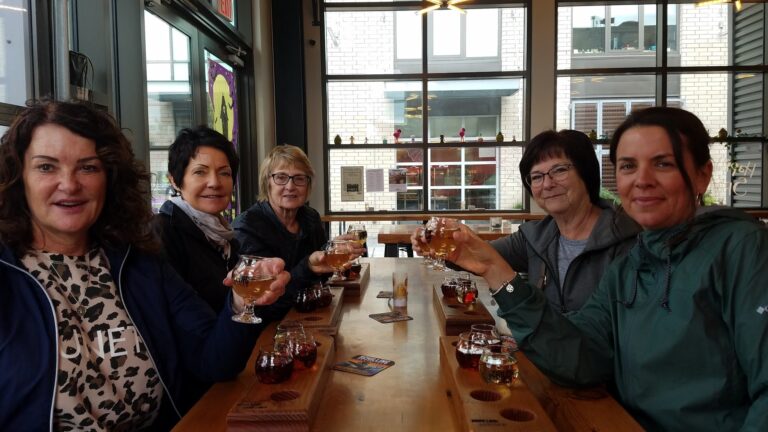 Sherri was great and had lots of info about the neighborhood and places we visited. We tried a lot of different ethnic foods we had never tried before... Russian, Burmese, Venezuelan.... all delicious. We also tried a variety of hard ciders that we liked whereas in the past we have not favored this. Thanks Sherry for a great time and for showing us around!!! Well worth the cost.
My friend and I were looking for a unique food experience while visiting Portland. We hit the jackpot with Sherri and the Kerns Hood/East Burnside tour. We were lucky to have Sherri to ourselves! All of our stops were unique and tasty and we learned so much about the neighborhood and the stops. Sherri was flexible and so nice to spend time with and we look forward to doing another food tour in the future.
My wife and I took a trip to visit Portland for the first time and were overwhelmed by the million and one great food options around the city. So we decided to let the experts guide us and we booked a food tour! Our guide, Sherri, was amazing and took us to some really amazing spots on her Mississippi Avenue brunch tour. We learned a bit of history about each place, the city, and the food. It was an eclectic (in a great way) mix of restaurants and bars that gave us a wide sampling of some of what Portland has to offer. We're so glad we did it and definitely want to check the other tours next time we're able to make it back to Portland!
Absolutely an incredible and worthwhile experience! Sherri not only took us to amazing places to eat but clearly knows the area with the history and back stories that only a true local could provide. She also gave us the lay of the land of all the other places worth checking out that we just weren't able to fit into the tour. Perfect introduction to the extensive and dynamic dining options Portland offers!.
We enjoyed our food tour with Sherri. We tried new restaurants and learned the history behind the neighborhoods we visited. She knew exactly what foods to order that would excite our taste buds and leave us asking for more. She's a true professional with a lot of passion for food and history. We highly recommend her and plan to try her other tours when we make our return to Portland.
I booked a food tour with Sherri from Portland By Mouth for a corporate group of 12 people and had an excellent experience. Sherri was extremely responsive and thorough throughout our planning discussions, and took great care to customize the entire tour to my group's needs (walking distances, reservation timing, dietary restrictions, etc.). Sherri was a fantastic tour guide and my group loved spending the evening with her. Strongly recommend Portland By Mouth for a great local experience!