Guess what? There are a lot of types of waffles out there. Because we live in a big world and people all over love waffles! The most popular types are Dutch waffles and Belgian waffles. But let's not forget the American waffle, the Italian style waffle and varieties of Asian style waffles (from Hong Kong to Vietnam).
Portland is well represented with waffles and I will admit I declared one of my favorites sometime last year. All it took was one bite into a Smaaken Waffle and I was hooked. When I learned that the word smaaken is Dutch for tasty, it was so obviously befitting. In fact, Smaaken Waffle is one of my overall favorite food carts in Portland and my go to on a regular basis, even when I am not bringing people there for the Bustling Buckman Food Tour.
How long have waffles been around?
I was surprised to learn that waffles have been around since Romans were racing chariots. Well, actually they are not QUITE that old, but almost. The very, very first evidence of waffle making was in the Middle Ages, the 9th-10th century. The Greeks made a flat cake between two hot metal plates. However, it was the 14th century before the first actual waffle iron came into use. This was in the Low Countries – current day Belgium and The Netherlands.
Picture two extremely heavy, hinged iron plates with long wooden handles. And now imagine holding the wooden handles and rotating the plates so the waffles cook evenly over a blazing fire. Nobody would go through all that effort if the result were not going to be delicious.
Luckily (mostly for the waffle maker, but also for us), today we can enjoy waffles made in an iron that sits on a counter. In fact, when I go to Smaaken Waffle, I like to peek into their food truck and admire this invention, which frankly, hasn't changed much in the last 700 years (although now the waffle iron is electric). And also, with the waffle maker's hands liberated and light, they can focus on creating sumptuous fillings instead.
Dutch style waffles – bring it on Smaaken Waffle
There are a few characteristics that need to be in place for a waffle to be Dutch. And Smaaken has all of these.
Thin
This is really determined by the shape and depth of the waffle iron. Because the Dutch waffle is thin, it gives lots of opportunity (read: surface area) for it to crisp up, which lays the foundation for super yummy. This is to contrast with a Belgian style waffle which is thicker and often chewy on the inside.
Whole grain
No white flour allowed here. A whole grain product is more wholesome than a processed flour product – no two ways about it. Smaaken Waffles uses an heirloom variety of wheat, which is stone ground and milled by Camas Country Mill, the day before Smaaken receives it. And they also have a whole grain gluten free flour mix, from Bob's Red Mill. Sometimes whole grain baked goods can be on the dense side, but read on to find out why these waffles are not.
Fermented
Yup, that's right. A Dutch waffle is similar to sourdough bread. Wild yeast in the air is caught and cultivated. Then it is introduced to the batter, where the two mingle for 24 hours. During this time the flavor matures and develops into something truly exquisite.
Well, that is JUST the waffle. Smaaken Waffle has dozens of house -made fillings to stuff their waffles with. The fillings range from sweet to savory, vegan to vegetarian to carnivore. You could satisfy the whole family, picky eaters and all, with your own customized waffle.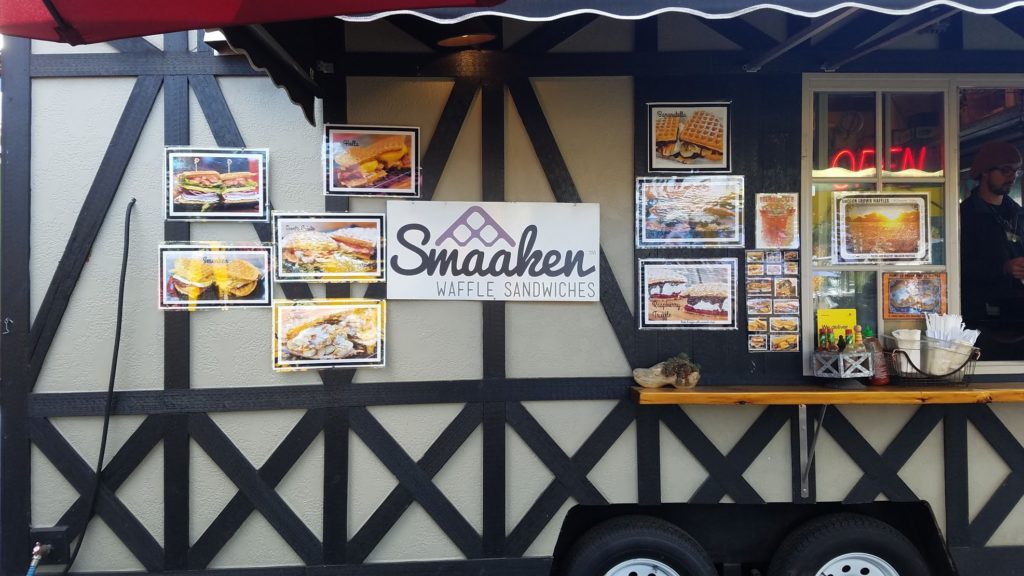 The food truck looks like it came straight from The Netherlands
The tastiest Smaaken waffles
So here is a list of my faves, but I would love for you to discover your own faves and tell me all about them. I am sure they are all AMAZING.
Savory
Monte Cristo- Ham, melted Swiss, house-made Strawberry Jam, Maple Butter & Dusted Powdered Sugar
Sardou- Egg, Smoked Gouda, braised Spinach & Artichoke with Lemon Aioli
Smaaken – Brie, Spiced Apples, Bacon & Maple Butter. How could the eponymous waffle not be a fave?
Sweet
Whip It- Maple Butter & Powdered Sugar & Fresh Whipped Cream We share this on the Bustling Buckman Food Tour.
Raspberry Truffle- Raspberry Jam, warm Chocolate Ganache & Fresh Whipped Cream For when I am feeling daring.
Dutch waffles are a thing to experience. And yes, Smaaken Waffles are synonymous with a tasty experience.
On the Bustling Buckman Food Tour, we have dessert at Smaaken Waffles. It's also a great opportunity to check out Portland's food cart scene, as Smaaken is located in the Hawthorn Asylum food cart pod.
Smaaken Waffle Sandwiches
Hawthorne Asylum
1080 SE Madison St.
Portland, Or 97214
Smaaken Waffle Sandwiches
Lot at Scout Beer
5029 SE Division St
Portland, Or 97206
Smaaken Waffle Sandwiches
BG Food Cartel
4250 SW Rose Biggi
Beaverton, Or 97005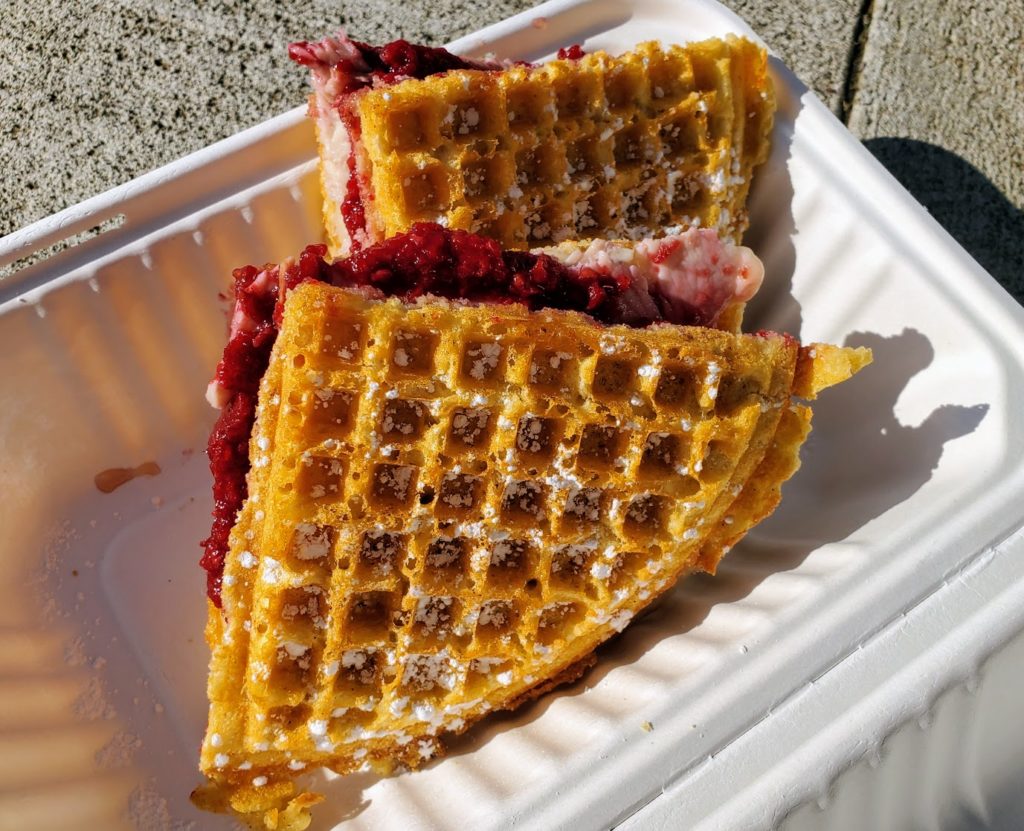 All the goodness of a Monte Carlo sandwich, embodied in a Dutch waffle!