Providore claims to be a purveyor of fine foods and it is indeed just that. It is actually a mix of several businesses that each occupy space in the same building. And the synergy of the mix is awesome. Providore's website lists: Pastaworks (fresh pasta, wine, and a deli), Arrosto (rotisserie chicken), Flying Fish Company (replete with its own oyster bar and soup samples), The Meat Monger (think duck, quail, hazelnut finished pork, and pasture fed beef), Rubinette Produce Market (with unusual varieties of usual fruits and veggies), Little T Baker (artisan bread and sweet treats) and Hillary Horvath Flowers (think seasonable like eye popping peonies and wild berry flowers).
Tell me about what's in this foodie playground!
Dare I say that list is just scratching the surface? The sommelier at the wine shop in the back will help you select the right wine for the French or Dutch or Spanish cheese that you just selected up front. How nice is it to have a bottle of white wine from the Loire Valley to go along with a Loire Valley chèvre?
Next to the European heavy cheese selection, a deli case awaits with delicacies such as pigs head terrine and an overwhelming number of choices of salami. And grab some house made preserved lemons and Castelvetrano olives while you are at it.
And then there are the aisles in Providore packed with all sorts of yumminess. Moroccan harissa, bean to bar chocolates, flavor rich olive oils spanning the Mediterranean region, tarragon and saffron mustard from France, and salt harvested from the Oregon Coast finished with a touch of vanilla bean. And on and on and on.. . .
A barista stand next to the bakery completes the experience. A great spot to meet a friend, get a cup of java, settle in at a table, and savor the deli items that the clerks will happily warm up for you.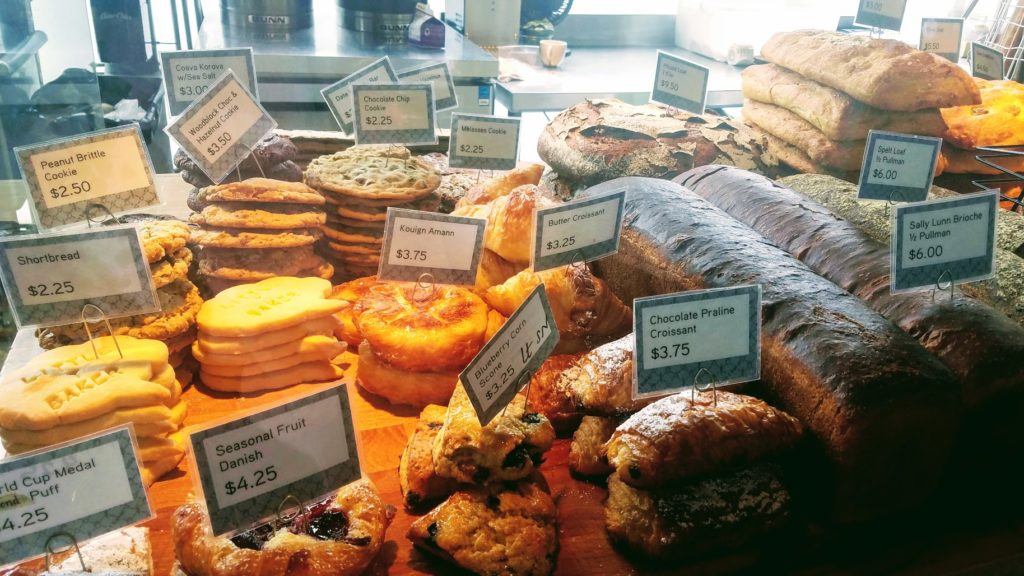 Finally, at the check stand, bunches of Hillary Horvath flower arrangements beckon. Each bouquet bursts with color and beauty, practically singing "pick me, pick me".
I am sold! Where is Providore located?
Providore Fine Foods is undoubtedly a versatile foodie playground – chefs, home cooks, and newbies alike will find what they need here. The location is strategically placed on Sandy and 24th, in the Kerns neighborhood.
It is walking distance to a Whole Foods and a New Seasons (similar to Whole Foods, but more community focused and a true Northwest gem). But there are moments when even those stalwarts of the natural and organic grocery world don't cut the proverbial (and literal!) mustard and only Muscat grapes and fresh salt packed anchovies will do.
I take much pleasure bringing guests to Providore on the the Vibrant Kerns Hood – East Burnside and More food tour. I never tire of seeing people get wide eyed as we step inside. I'd love for you to come join us. I'll see you there!
Providore Fine Foods
2340 NE Sandy Blvd
Portland, OR 97232