Have you ever had a hard time deciding on where to stay? Locals and friends provide countless suggestions, but where do you even begin? Realistically, there's really no "wrong" answer. It all depends on your personal preference, style, and to-do list when exploring a new city. Being that Portland's slogan in Keep Portland Weird, it's no wonder that the city has its fair share of quirky hotels.
Portland, Oregon was created with five geographical sections that locals have referred to as "quadrants." These are known as, North, Northeast, Southeast, Northwest and Southwest. The sixth and newest quadrant which is the South quadrant was added in 2020. Technically, they're known as sextants now, but Oregonians still call them "quadrants." That in itself is pretty quirky!
However; regardless of which quadrant you visit, they all still have their own uniqueness and charm. For many years, I lived in Eugene, which is 2 hours south of Portland for many years. And mini-vacations to Portland gave me the opportunity to stay in some quirky hotels.
I'd love to share with you some of those great places. And while I am at it, I will throw in the name of a fabulous restaurant that is walking distance to the hotel. Enjoy!
Quirky hotels in Northeast Portland
Jupiter NEXT – This is the more modern and hipper sister of the Jupiter Hotel. It boasts spectacular city views and is less than a mile from downtown Portland. The hotel's restaurant Hey Love offers showcases a beautiful array of liquor at the bar and a tropical ambiance while serving up delicious brunch and dinner options. The restaurant was dubbed "2022's Liquor Awards" for the best hotel bar.
The original Jupiter Hotel has the Doug Fir Lounge, a local favorite performance venue with different events on a regular basis. Stop by for a cold drink and some fun entertainment.
Grab a bite: Canard
Tiny Digs– If you are a fan of tiny homes, this is definitely the place to check out! Each tiny house promotes a different theme so you can choose to stay in a modern, cottage-style, bamboo, railroad-themed, or merlot house. How fun is that? Each tiny home accommodates 2-3 guests and is lovingly decorated to fit the theme. It is also conveniently located in the heart of the Kerns neighborhood which is close to plenty of delicious eats such as the Tropicale, Providore Fine Foods, Navarre, and Fifty Licks, just to name a few.
Grab a bite: Flying Fish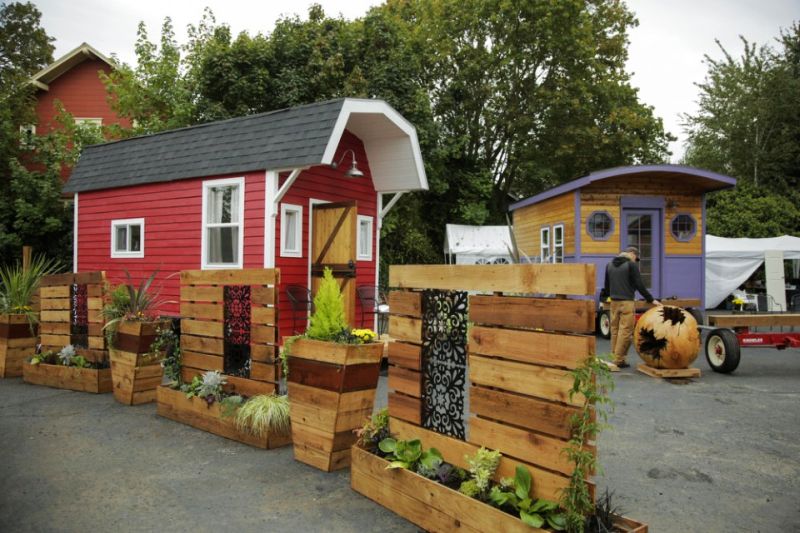 McMenamins: Kennedy School – Backstory to the McMenamins brothers: They appreciated historical Oregon and wanted to preserve as many locations as they could. They eventually purchased and restored different dwellings ranging from Catholic and public schools, country farms, and fraternity homes and turned them into unique pubs and lodges.
The Kennedy School was an elementary school that opened its doors in 1915. McMenamins bought and restored the abandoned school into a beautiful 57-room hotel that features multiple small bars, a theater, a soaking pool, and a brewery. You won't mind being sent to detention at the Kennedy School because whiskey's on the menu!
No matter which McMenamins location you visit, you're in for a very unique and quirky experience that's sure to be memorable.
Grab a bite: The Expatriate
and in Southeast Portland
Hotel Grand Stark – Conveniently located in the heart of Central Eastside Industrial District, it's a quick 15-18 minute walk to the Oregon Museum of Society and Industry. It features 57 rooms, and a study hall, and offers delicious food from the Deli and Bar Chamberlin.
Grab a bite: Kahn (or the casual sister restaurant, Sousol)
Bluebird Guesthouse – This hotel embodies a quaint and cozy atmosphere for those who prefer the vintage feel of the city. It is located in the Division / Clinton neighborhood which is within walking distance of many hotspots to eat. This is a unique stay as it blends the feel of a bed & breakfast, vacation rental, and boutique hotel. You're welcome to cook your own meals or order from their continental breakfast which is served up daily.
Grab a bite: Oma's Hideaway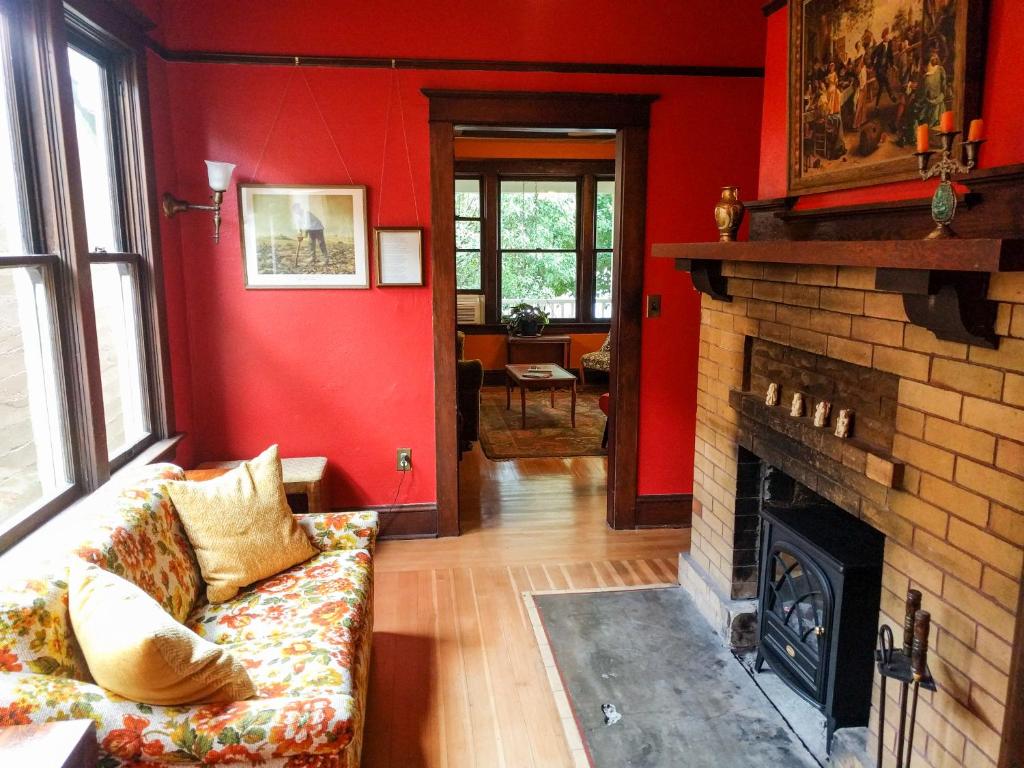 Quirky hotels in Northwest Portland
Canopy by Hilton Portland Waterfront – Talk about a Hilton hotel experience with a unique hipster flair! This is a beloved and highly rated hotel by locals and tourists alike on a scale of 9.3 out of 10. This hotel provides comfort, convenience, a rooftop fitness center, and delicious food with local spirits from the Pearl District for all to enjoy.
Grab a bite: Andina
The Inn at Northrup Station – If you appreciate whimsical colors and artistic charm, you'll surely adore your stay at this hotel. This location is a 5 minute drive to the Oregon Zoo and the International Rose Garden. This hotel offers a modern and upscale atmosphere with apartment-style accommodations and is one block away from Nob Hill which has multiple independent upscale shopping and dining options.
Grab a bite: Phuket Cafe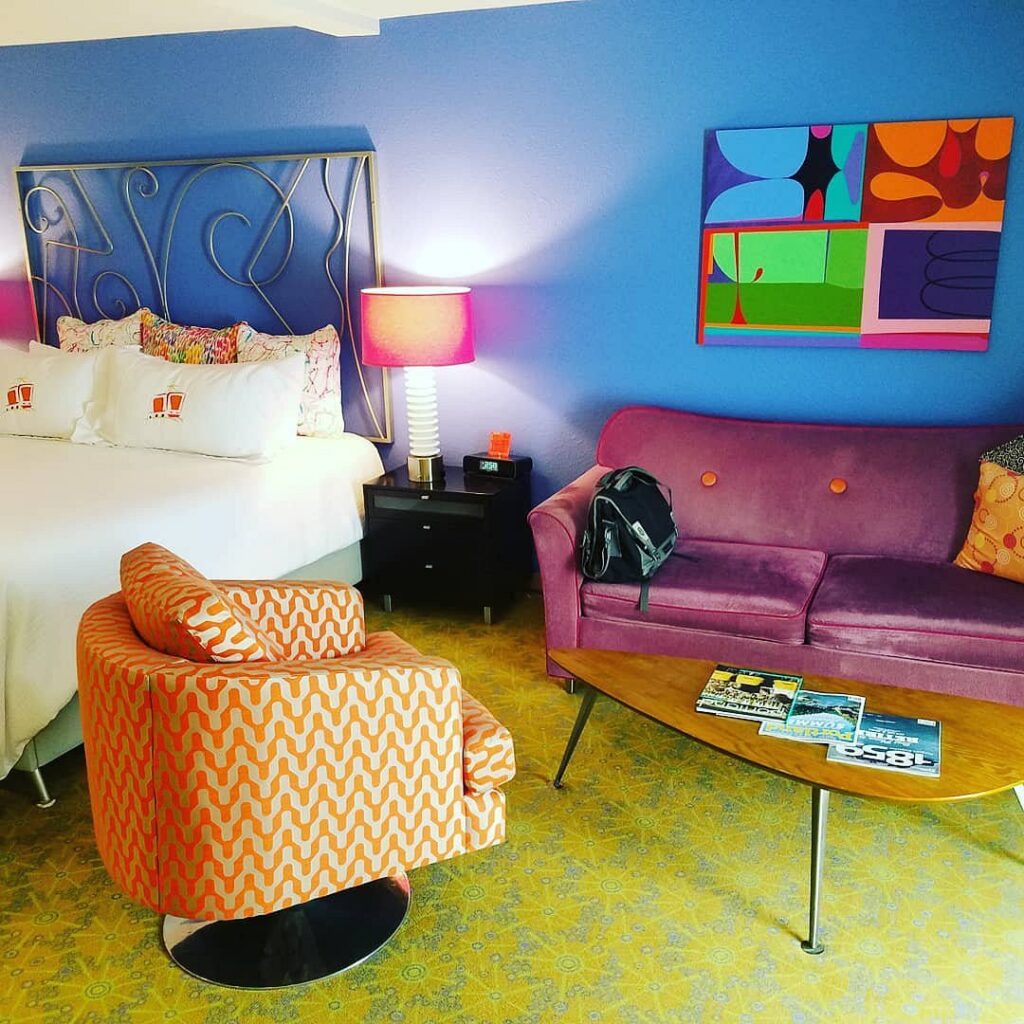 and in Southwest Portland
The Crystal Hotel (Also another McMenamins unique location) – This is where the fun's at! This hotel is conveniently located in downtown Portland's West End and provides a fun urban atmosphere. During your stay, enjoy the Zeus Cafe which offers the best and freshest Northwest ingredients and an array of dishes to choose from on their menu. McMenamins locations are not only known for their quirky hotels but as well as their capacious selection of spirits. This hotel has also been registered on the National Register of Historic Places. Come visit the Crystal Ballroom which has a floating floor that moves when you dance.  How cool!
Grab a bite: Toki
Hotel Rose aka StayPineapple Hotel – This hotel has had quite the facelift! It was renovated into a hip and colorful hotel for those looking for comfort, affordability, and style. Eccentrically decorated interiors with bright pops of color will brighten anyone's mood. The hotel offers a spacious fitness room, extremely comfortable linings, and bedding as well as fluffy robes for an optimally comfortable stay!  If you're looking for convenience, this is the place to be as it offers a bar and restaurant as well as bicycles to rent and explore the city. Kerr Bikes are the zany way to go as you take a ride down the riverfront.
Grab a bite: Pine St Market
Royal Sonesta – If you have a more upscale taste, the Royal Sonesta is for you. Decorated with mismatched patterns (well, of course Portland had to keep it unique!), this hotel represents class, charm, and a lot of character. The walls have a bird motif, the bedding are adorned with orange and plaid pillows, contrasting and colorful geometric patterns will have you feeling like you're in Alice in Wonderland. The atmosphere embodies a vintage feel that takes you back in time and is in a centralized location that provides activities for everyone's preferences.
Grab a bite: Maurices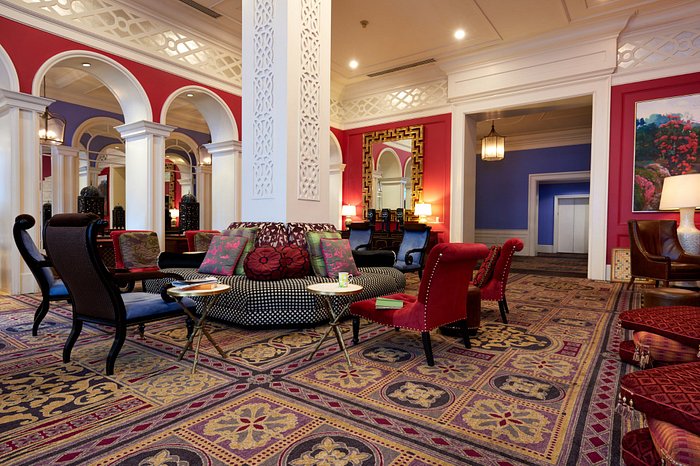 I see, there are LOTS of quirky hotels in Portland. Sounds like I can't go wrong!
So you see, Portland is quite a gem in all different quadrants of the city. As a lover of art, entertainment, and food, I've come to appreciate the little details in all that this great city has to offer. It takes a creative mind, passion, and pure dedication to turn visions into reality. I hope you enjoy your time here wherever you decide to stay. Whichever one of these gems as you choose to stay at will be perfect – I guarantee you will not be disappointed!
And whether you choose to stay at one of these quirky hotels, an Airbnb, or with your friends and family, be sure to book a Portland by Mouth food tour – it's THE Yummiest Way to Experience Portland!