Ah, Portland, Oregon. One of the greatest and trendiest cities to visit in the United States. Famously known for one of its comedic and beloved shows called Portlandia, Portland boasts gorgeous natural greenery and is a fun place to be! Come check out all the uniqueness this city has to offer! And you can decide for yourself what is the best season to visit Portland.
Wintertime in Portland, Oregon (November to February)
For Oregonians, these are the rainiest months of the year averaging 17 days out of the month with rain. The overcast weather provides moisture that amplifies the green beauty of Portland. Winter weather yields an average of low 34 degrees to high 40's to 50's. But don't let that stop you from truly experiencing the city. There's nothing a base layer of merino wool and a sweater can't solve!
The Portland Mercury provides up-to-date suggestions on places to check out. From art galleries to countless local music venues, your dilemma would be deciding on which spots to tackle first. Imagine enjoying brunch at a cozy café, like Broders or Petite Provence, followed up by an afternoon at the Portland Art Museum. Strategize your visit during these months with indoor places to visit.
Powell's City of Books is an absolute necessity if you are a lover of books. And that goes for anytime of the year, yet the winter lends itself to getting lost there all day!  It has been dubbed the world's largest independently owned bookstore. You'll be needing a map to navigate through 68,000 square feet of amazingness and over 3,500 sections to check out. They're open 365 days of the year (yes, really!) so make sure you experience this incredible bookstore.
Another great spot to visit is PSU's Farmers Market which displays up to 100 vendors to provide you with everything your heart desires from locally grown organic produce to delicious freshly baked goods. This farmer's market is also open year-round for everyone!
Prices on hotels and lodging are at their lowest so this is a great time to visit if you're on a tight budget.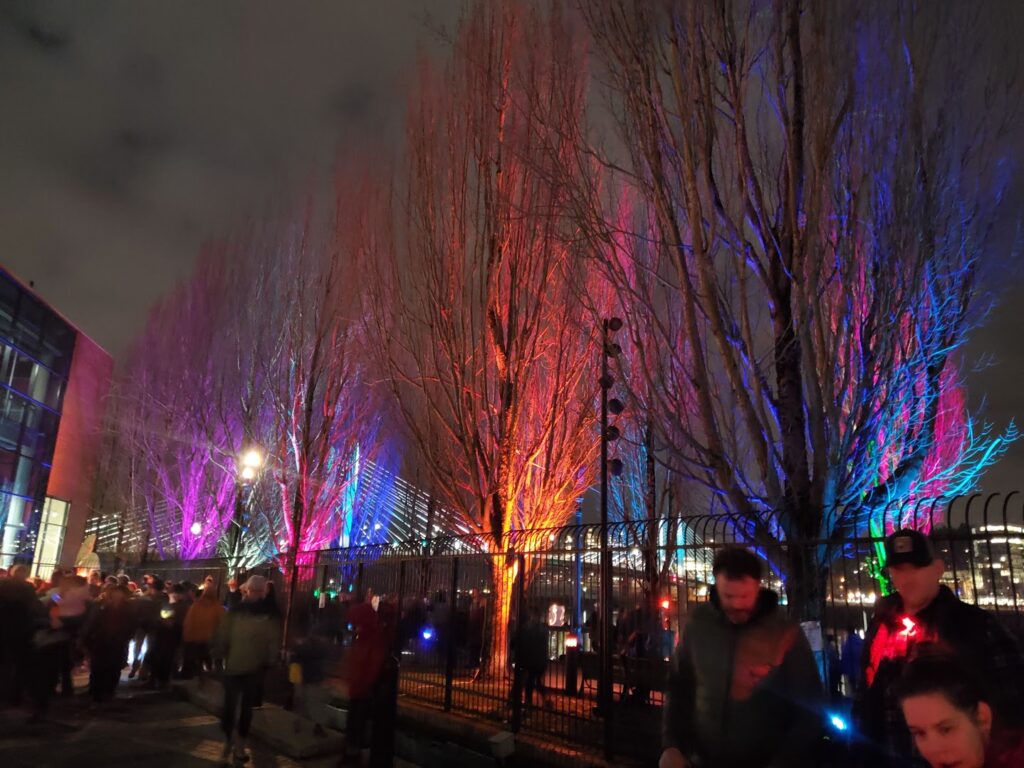 Springtime in Portland, Oregon (March to May)
April showers bring May flowers and indeed it does in Portland! Rhododendrons and azaleas are widely known to bring lovely touches of color west of the Cascades.  In fact, you may want to visit Crystal Springs Rhododendron Garden and admire the blooms for yourself.
Mustard greens and morel mushrooms hit the farmer's market as they're in season!  If you've been to the famous PSU Market before, why not check out a different one.  The Hollywood Farmer's Market has the same incredible variety, but is a lot more compact, although it has live music to add to the festivities. 
Do you love to hike and enjoy Mother Nature's beauty? Spring is the perfect time to get on your hiking boots and go on an expedition to places like Forest Park, Mount Tabor, or Powell Butte. Forest Park provides refuge for hundreds of wildlife and different plant species. The lush 5,200 acres of beauty provide much shade and hiking trails to enjoy for hours. Mount Tabor offers numerous parks to enjoy a nice stroll with the family. It offers playgrounds, horse pits, basketball courts, and an outdoor amphitheater. Friends of Powell Butte expands over 600 acres and offers a visitors center and butterflies! Here you'll find over 15 different species of butterflies to keep you busy as you enjoy your experience.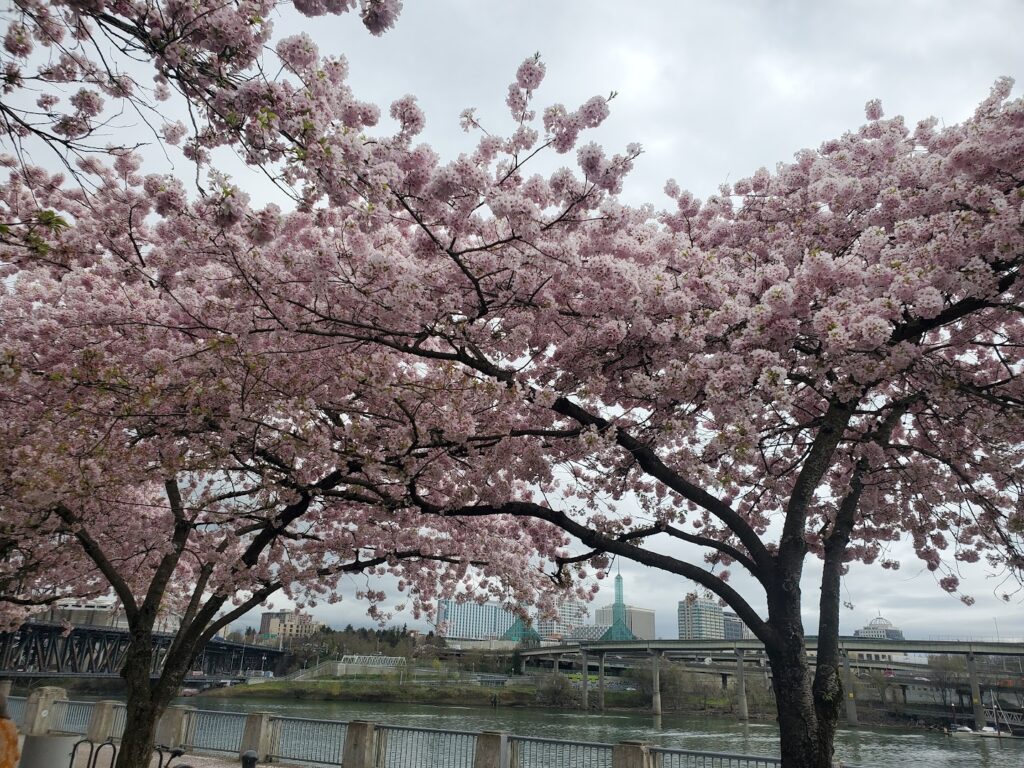 Summertime is the classically the best season to visit Portland, Oregon (mid-June to August)
Even in the summertime, Portland ranks high on the comfort meter. With low humidity, you'll experience high temperatures in the mid to high 80s, but rarely will you ever see it spike unless there's a heat wave phenomenon. The evenings will transition into mild 60s with a slight breeze that makes it enjoyable to sit outside your porch and watch the sunset. Rain is nonexistent and the days are long which makes it even better to go on hiking trails and long bike rides.
The Oregon Brewers Festival is quite popular amongst locals and tourists alike so come enjoy a locally brewed beer! Music festivals are in full swing as bands come out to play music on the waterfront all summer long.  The Waterfront Blues Festival happens the weekend of July 4th.  While you are there, you may as well catch the fireworks, while standing on the Hawthorne Bridge.
The Water Lantern Festival provides a unique opportunity to experience admiring thousands of lanterns filled with notes of love, aspirations, and hope drift onto the water. You won't want to miss it! Hundreds of visitors come to witness this special event every year and you leave with a sense of serenity afterward.
Let's not forget the north Oregon Coast! Roughly 97 miles from Portland, the coast is a whole new definition of coastal beauty. Travel up and down the coast from Pacific City to Astoria and embrace all the sandy beaches and glorious coastline the state has to offer. There are truly too many wonderful spots to recommend.  So I'll let you in on a few of my favorites on the North Coast.  Cape Kiwanda (Pacific City), stopping for ice cream at the Tillamook Factory (Tillamook), kayaking the Nehalem River (Wheeler) and anything in Astoria (Astoria), because it's absolutely adorable.
The marionberry is Oregon's beloved berry and summertime brings an abundance of it. Local markets and creameries whip up delightful treats for all to enjoy. Think marionberry glazed donuts, marionberry ice cream, marionberry mocktails and U-pick marionberries on Sauvie Island.
This is the peak season for Portland so hotel and lodging prices are at their highest. Plan accordingly to your budget and book your stay months prior to save yourself some money.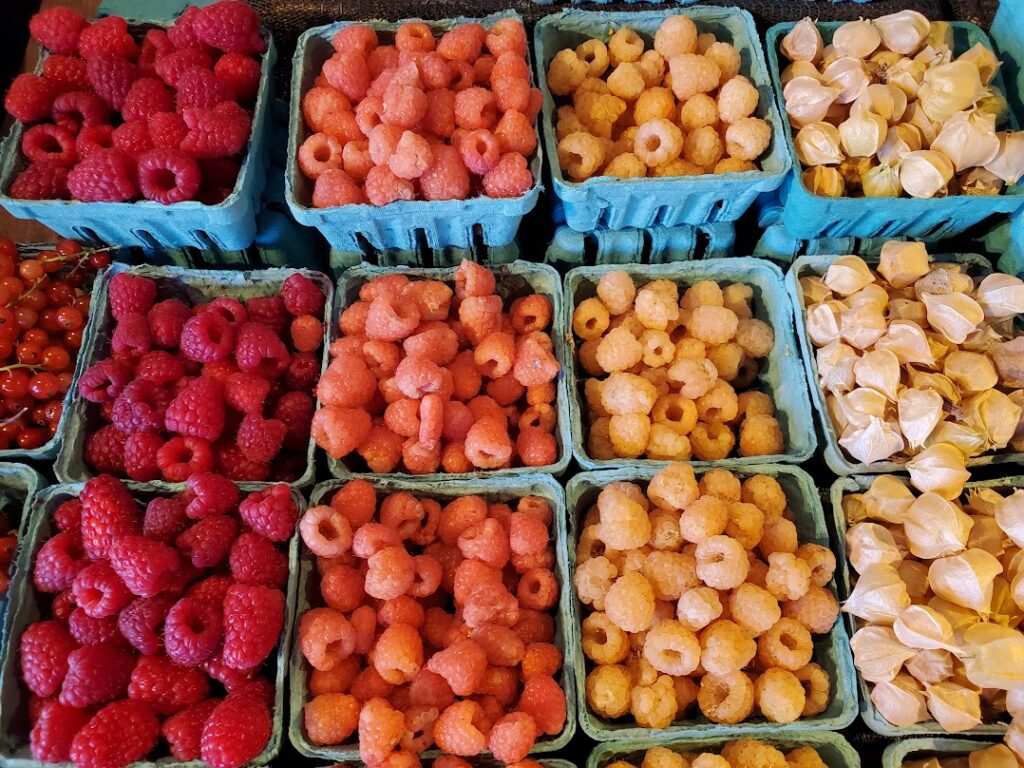 Autumn is the hidden gem best season to visit Portland, Oregon (September to October)
Alas, it's Autumn in Portland. These are truly the perfect months to plan your visit. Temperatures average low 50's to mid 70's most days. The chances of rain are slim and leaves are changing colors everywhere you look. Nothing screams FALL like witnessing the leaves turn orange, yellow, and bright red leaves as you enjoy evening strolls downtown!
The local farmers market vendors are filling their booths with plump bunches of grapes, delicious apples for delectable pies and ciders, juicy fresh figs for versatile charcuterie boards, and different varieties of squash for stews and soups. If you missed the Saturday markets, head to King Farmer's Market on Sunday!
While the surrounding mountain ranges stay green year round, as they are covered with conifers, the city has a display of autumn colors that will bring a whole new level of charm leaving you feeling warm and fuzzy on the inside. This is because the city streets are lined with beautiful cultivars and deciduous trees from all over the country.
One of the attractions during the autumn that's a "must-see" is the Japanese Gardens which flaunts 12 acres of absolute beauty.  You'll feel like a professional botanist after learning all about the different types of plants and flowers in the Garden.  Although you MUST visit the world famous Japanese Maple (and wait in line to take your perfect photograph).  Photographers travel up and down the west coast in October, just to visit this tree at peak foliage!
Autumn is also the perfect time to explore art museums, corn mazes, film festivals, and let's not forget the wondrous seasonal culinary delights!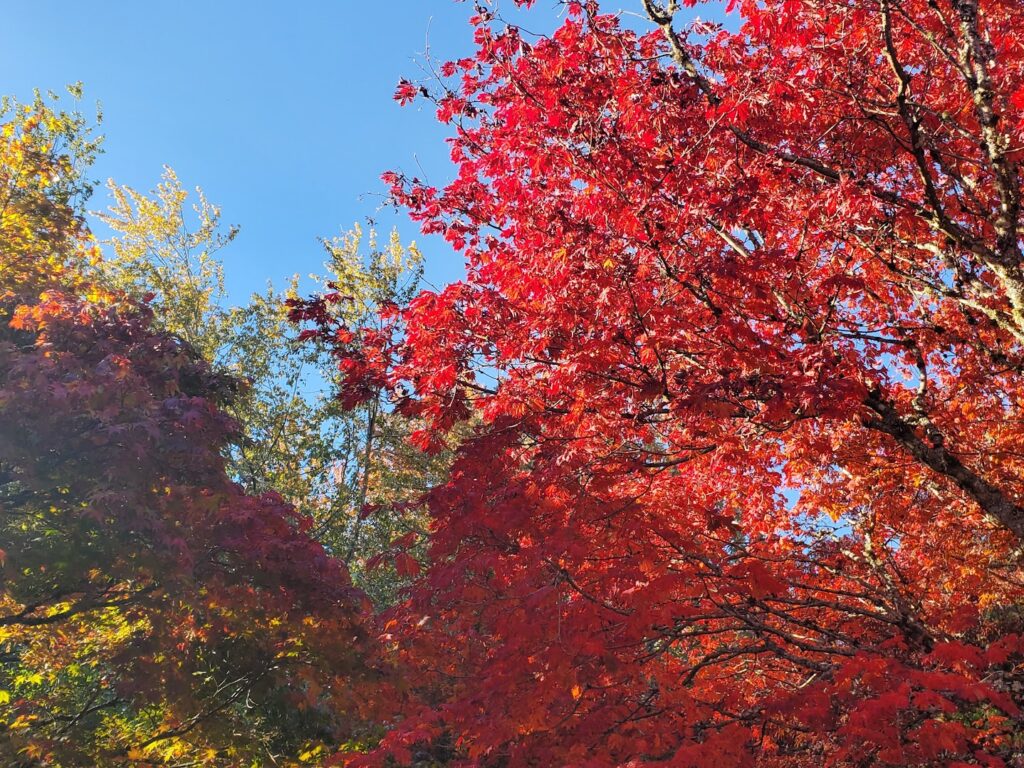 So, when is the best season to visit Portland, Oregon?
No matter which season you plan your trip to Portland, you're in for a memorable experience. The people are nice, unique, and welcoming to all visitors so what are you waiting for? Book your trip and get excited for all the awesomeness that awaits, 365 days a year!
And it goes without saying, no matter what season you are visiting Portland, we'd love to host you on one of our Portland by Mouth food tours. 3 delicious neighborhoods to choose from!